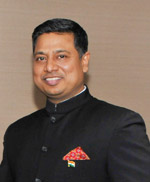 Mr. Sanjay Rana, Ambassador of India
Ambassador Sanjay Rana arrived in Baku on 5 October. He has been trained in international relations and diplomacy at the Foreign Service Institute, New Delhi. He joined Indian Foreign Service in 1996 after working for the Small Industries Development Bank of India (SIDBI) and Hindustan Copper Limited (HCL). He graduated with Bachelor's Degree in Electrical Engineering from the Delhi College of Engineering of Delhi University.
In the course of his career in India's Diplomatic Service between 1998 and 2013, he served in Delhi and in Indian Missions abroad in Damascus, Riyadh and Copenhagen in different diplomatic positions. He was Director of the UNP Division in the Ministry of External Affairs, New Delhi between February 2008 and July 2013, including period from 2011-2012 when India served as a member of the United Nations Security Council (UNSC). He served as Deputy High Commissioner of India, Male (Maldives) between July 2013 and September 2015.
Ambassador Rana is married to Mrs. Barbara Jaworska and they have two sons.